Thank You Letter to Colleagues on Last Day of Work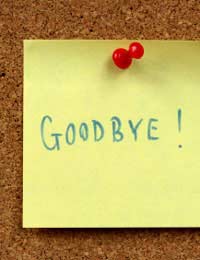 It is customary in many organisations for employees who are leaving to send thank you letters to their colleagues on their last days of work. Such thank you letters need not be long, but they should always be polite and sincere.
Content of a Thank You Letter to Colleagues On a Last Day of Work
A thank you letter to colleagues on a last day of work is still a communication sent by an employee of an organisation. As such, this kind of letter should remain professional and polite in tone and contain sincere thanks for something that the employee has learned or experienced while employed by the organisation. In some instances this might be a stretch, of example if an employee is leaving on bad terms, however it would be better to send no thank you letter at all than to send one full of double meanings, lies or attacks on others. If colleagues have done something special to mark an individual's last day, such as taking him or her out for a meal, surprising him or her with a cake or generously contributing to a
present
, then these efforts should be acknowledged as well.
Presentation of a Thank You Letter to Colleagues on a Last Day of Work
In very small organisations it might be possible for an employee who is leaving to write individual thank you notes to all of his or her colleagues, or to present one overall thank you note to everyone on his or her last day of work. However, in many larger organisations it has become customary for employees to send around a mass email to everyone. While these emails do not need to follow strict business letter formats, including an appropriate salutation and closing is a good idea. Usually these emails will be sent on the afternoon of an individual's last day.
Sample of Thank You Letter to Colleagues on a Last Day of Work
Below is a sample letter as a starting point to tweak for your circumstances. Of course you may not share all of the sentiments in the letter but remember to stay positive!
22 Jul 2017


Hello Everyone,
As most of you know, today is my last day with [COMPANY]. It is with a heavy heart that I must say goodbye to all of my friends and colleagues here, many of whom I have seen on a daily basis for over a decade. I would like to take this opportunity to thank everyone for the support I received here at [COMPANY] and to let you all know that I have appreciated the friendly atmosphere in which I have worked.
I would also like to thank the Social Committee for organising such a brilliant going away party for me yesterday evening. I had no idea that they were planning something for me, and seeing so many of you come out to wish me well will be a memory that I treasure forever.
Tomorrow morning I will wake up as a full time stay at home mother to my beautiful daughter Poppy, and while I am excited for this future I will never forget the career that I enjoyed at [COMPANY]. Thank you all for making it possible for me to say that.
Best Wishes,
Jane Marshall
What About Colleagues Who've Become Good Friends?
Sometimes if you work with someone for a long time, you become more than work colleagues. If you're leaving your job you might want to stay in touch. Why not drop them a note to
thank them for their friendship
?
You might also like...
Hi am called Alexo i love working in UK so am aguy who can work in any condition ...pliz reply me
Alexo
- 22-Sep-12 @ 12:37 PM
Your letters are all very good and I love this website. More people should show appreciation to others.
Graeme
- 4-Jul-12 @ 10:42 PM
Really you guys are doing terrific job.I like it very much.
Bharat Garachh
- 6-Apr-11 @ 6:01 AM