Wedding Gift Thank You Letter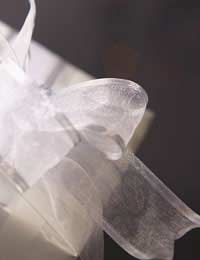 It is the rare wedding that won't generate at least a few gifts. Even if the bride and groom ask that gifts not be brought there will likely still be a couple of them that turn up. Donations in lieu of gifts can also be quite common. When someone gives something in honour of a wedding - whether it be gift, gift certificate or donation - it is generally expected that a thank you letter will be sent in return.
Content of a Wedding Gift Thank You Letter
A thank you letter sent to acknowledge a wedding gift should first thank the gift giver for thinking of or being with the couple on their happy day. Next, details of the gift should be included so that the letter feels personalised and not like a generic form letter. A small mention of how much the gift was desired ("We've always wanted a stand mixer!") or what the couple will do with the gift ("The umbrella stand will look so cute in our front hall!") is also appropriate. Finally, thank you letters for wedding gifts may end with an invitation for the gift giver to join the couple in enjoying the gift ("You'll have to come over soon to test out the wine glasses!"), but only if the couple truly does mean to make good on this invitation.
Format of a Wedding Gift Thank You Letter
Though a wedding is a formal event, thank you letters for wedding presents should not be formatted as formal business letters. Instead, the intimacy of the occasion lends itself better to more informal, handwritten letters and notes. Many couples even purchase specific wedding thank you cards or paper for these letters.
Electronic communication such as emails and e-cards are not generally appropriate for wedding gift thank you letters, no matter how close the relationship between the couple and the gift giver. Couples do not have to send these letters immediately, however. It is acknowledged that the couple will likely go on a honeymoon and need to get settled into their new home following a wedding, so if letters are not delivered for several weeks or months then there is no cause for concern.
Sample of a Wedding Gift Thank You Letter
14 September, 2008
Dear Anjuli,
Thank you again for attending our wedding and the beautiful set of candlesticks. We were so happy to be able to share our special day with you, and knowing that you went to the trouble of bringing us a set of your handmade glass candlesticks just made everything all the more special. The gorgeous candlesticks now live on our dining room table and we've been able to have many a romantic newlywed dinner with them. When we get settled into the house we will have you over for a lovely dinner so that you can see how well they look. In the meantime, feel free to think of suggestions for what Chandra and I can cook for you!
Love Always,
Hasita and Chandra
You might also like...