Thank You Letter for Being a Guest Speaker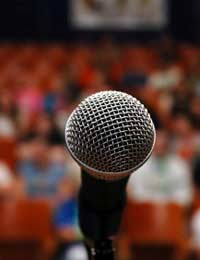 Agreeing to be a guest speaker means that someone gives up the time to speak for an audience as well the time required to write and plan a speech. Even if a guest speaker is being paid or otherwise compensated for his or her speech, sending a thank you letter helps to maintain good relationships and would be proper business etiquette.
Content of a Thank You Letter for Being a Guest Speaker
Thank you letters to guest speakers should always contain a message of thanks for delivering a speech or presentation. Generally these letters will reference the content of the speech or presentation, or the flair with which it was delivered, but if the guest speaker was relatively unsuccessful then it might be better to simply discuss how nice it was for him or her to be the guest speaker and how important the general topic was to the audience. If the guest speaker was presenting as part of a programme of talks or lectures then reference the programme or series as a whole is also a good idea.
Format of a Thank You Letter for Being a Guest Speaker
A thank you letter may be formal if it is being sent on behalf of an organisation or informal if it is from a closer individual. Formal letters should be formatted as business letters with the titles and address of both the writer and recipient present. Informal letters do not need to include these details. Formal letters should contain formal salutations and closings, while informal letters can use a wide variety of greetings and closings. Formal letters should be types and printed on company or organisation letterhead while informal letters should be handwritten on nice paper or card. Electronic communications should not be used for thank you letters for guest speakers.
Sample of a Formal Thank You Letter for Being a Guest Speaker
Dr. Richard FenceSociology DepartmentBig UniversityAddress
5 Dec 2023
Dr. Margaret MullensSociology DepartmentSmall UniversityAddress
Dear Dr. Margaret Mullens,
On behalf of the Sociology Department of Big University I would like to thank you for taking part in our Summer Lecture Series. This Series has been in existence for over 100 years and it is because of dedicated academics such as yourself that it still continues to be such a success. Your talk on "An Interesting Sociological Theory" was the most well attended of the Series and our faculty, staff and students are still talking about it. It was an honour for the Big University community to be able to hear your ideas.
Sincerely,
Dr. Richard Fence
Sociology Department, Big University
Sample of an Informal Thank You Letter for Being a Guest Speaker
5 Dec 2023
Dear Maggie,
Thanks again for discussing "An Interesting Sociological Theory" at our Big University staff day. It's always nice to actually hear something useful on those days, and your ideas certainly sparked a lively debate among all of those in attendance. I can't wait to hear more when I visit Small University later this year. Now if I could only get you to agree to come and speak at next year's Summer Lecture Series at Big University...
Thanks again,
Richard
...More Event Thank You letters
If you've found this thank you letter useful and have some other events coming up why not check out our thank you letters on
Thank You Letter for Hosting a Fundraising Event
or
Thank You Letter to Event Sponsors.
You might also like...
Dear Mr. Harrington, I wanted to thank you for discussing your career with us the other day and for educating us about it. I enjoyed the time you spent to expand our knowledge in engineering.
Estrella
- 13-Nov-20 @ 11:24 PM
Dear Mr. Harrington thank you for taking the time out of your day to discuss your profession and expand our knowledge of other career choices.
Arline
- 12-Nov-20 @ 8:43 PM
12 November Dear, Mr Harrington, Thank you for taking time out of your day to talk about your engineering career. I really enjoyed listening on what you do on a daily basis and learning about you outside your job. Sincerely, Nicholas Wright
Nick
- 12-Nov-20 @ 7:28 PM
I want to sent a thank you letter to an instructor who gave an outstanding lecture.
sweetg
- 16-Oct-12 @ 2:37 PM
In this case a handwritten letter, along with a small gift, is the perfect gesture of appreciation, especially if the person has volunteered his services (if paid, omit the gift). The handwritten makes it more personal and warmer – typed is far more formal and you want to convey sincerity for the person giving their time in this instance.
betty
- 4-Oct-12 @ 12:28 PM