Parent Letter to Thank a School Counsellor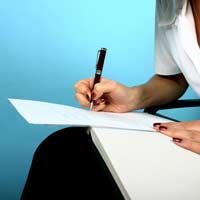 School counsellors are often the members of a staff who do not receive great praise or thanks for the work they do with pupils. For whatever reason many parents overlook the contributions these professionals make to their children's educational and emotional growth. Writing a thank you letter is an easy way for a parent to let a school counsellor know how much his or her work has meant to the pupil and the family as a whole.
Content of a Parent Letter to Thank a School Counsellor
Parents generally send thank you letters to school counsellors following one of three events: the pupil successfully leaving the school, the pupil successfully navigating a challenge with the counsellor's help or at the end of a school term or academic year. If thank you notes are sent too often, for example each time a pupil attends an appointment, they begin to lose their meaning. Generally such letters will include a message of thanks, a description of the event which precipitated the thanks and how the counsellor's actions positively affected the student or family. If details are known about a student or family's future, these may be included as well.
Format of a Parent Letter to Thank a School Counsellor
A thank you letter to a school counsellor should always be respectful and complimentary in tone, as well as more formal with vocabulary. This does not mean, however, that the format must be as strictly formal as it would be for a business letter. Including the recipient's name, job title and mailing address is optional, though the date and a formal salutation and closing are not. Delivering such letters by hand or by post is always appropriate and email delivery may be appropriate if this is an accepted means of communication with staff members at a particular school.
Sample of a Parent Letter to Thank a School Counsellor
5 Dec 2023
Dear Mr. Cotter,
When our son John began at Oakview School we knew we had a few challenging years ahead of us. While an enthusiastic and energetic boy, John had always had trouble focusing on the task at hand and seemed to have a particular dislike of reading. In truth we greatly feared his school years as we anticipated a daily struggle to get John to focus in class and settle into studying at home.
It didn't take long for John to end up in your office, I'm sure you'll remember, nor for his teachers to become exasperated at his overabundance of energy. It was only once John began meeting with you regularly, however, and that you explained to us the importance of exploring behavioural disorders and learning disabilities, that we began to understand why school was so hard for John.
Had you never entered John's life we fear for what life might still be like for our son. We would like to extend our deepest thanks for all of the work you have done with John, and we know that it is in large part due to your assistance and support that John will have a bright future ahead of him. If there is a formal process for complimenting your work or writing you a recommendation which might help your career we would be happy to undertake it in order to better express our gratitude.
Once again, thank you.
Sincerely,
__________________
Mr. and Mrs. Stephen Pierce
You might also like...