Thank You Letter from a Student to Academic Reference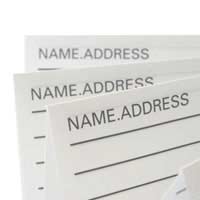 Educators are almost chronically overworked, so taking on the responsibility of acting as an academic reference for students means voluntarily agreeing to do even more work and keep even more details in order.
When an educator agrees to act as an academic reference, (s)he deserves to be thanked with a sincere and personal thank you letter. While sending a quick thank you email is appropriate for when an academic reference agrees to work with you, sending out a full letter after (s)he has acted as a reference is also appropriate.
Content of a Thank You Letter from a Student to an Academic Reference
A thank you letter from a student to an academic reference should always contain an explicit message of thanks. Students might also consider adding in several complimentary details, such as why they believed the educator was a good choice, how the educator has helped them in the past and why the felt the educator could undertake the responsibilities of being a reference.
However, these details should all be sincere and truthful, as this type of information can easily begin to sound fake if too much praise is heaped on all at once. Students might also want to consider writing how the reference helped them, such as that they were admitted to a particular institution, won a prize or scholarship, or were offered a type of employment. If there was not a satisfactory ending to the reference, students may wish to omit these details or include them but once again thank the educator for his or her help anyway.
Format of a Thank You Letter from a Student to an Academic Reference
Thank you letters from students to academic references are personal letters and as such should be neatly handwritten or typed on to plain stationery or a nice notecard.
These letters do not need to include the address details or titles, but they should use appropriate salutations and closing. The date should also be included in such letters. Educators like to hear back from students, and these thank you letters might well be kept for several years if they truly touch the recipient. Students should keep this in mind when writing thank you letters to academic references. Postal delivery and hand delivery are both acceptable for such letters.
Sample of a Thank You Letter from a Student to an Academic Reference
29 August, 2008
Dear Ms. Browning,
Thank you again for acting as my academic reference for the Really Big Scholarship. I couldn't believe it when I received the phone call yesterday, but it seems that not only have I won the Really Big Scholarship but that I will also be receiving a Somewhat Smaller Stipend to help with the costs of travelling and living while I attend Really Good University! I know that your reference must have been what persuaded the Scholarship committee to take a chance on me, and I can not thank you enough for your help. Attending Really Good University, without cost, is a dream come true. I will spend my time there working hard to make the most of my Scholarship, and to live up to the standards that your reference has set for me.
Thank you again.
Sincerely,Gillian Peabody
You might also like...