Thank You Letter from Teacher to Parent Volunteers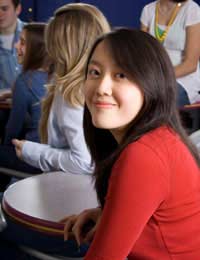 Many teachers depend upon parent volunteers to help in the classroom, accompany a class on field trips and donate their time and skills to helping with school events. Writing thank you letters to parent volunteers is a lovely way for teachers to show their appreciation and let parents know how their involvement has positively influenced their children's education.
Thank You Letters to Parent Volunteers
Thank you letters to parent volunteers do not need to be overly dramatic or intricate. Simple letters addressing what the parents did and why it was appreciate by the teachers and students are just fine. While many teachers will write these letters themselves, some will also ask students to express their appreciation in small notes or cards. It is usually best that these letters be composed shortly after the parents' voluntary activities, though some teachers may decide to wait until the end of the school year in order to address all parent volunteers at the same time. Whenever these letters are written, they should not be form letters. Instead, teachers should make every effort to write to each parent volunteer individually and to handwrite these letters rather than print them. For this reason it is often better to send letters shortly after the parent has volunteered so that teachers do not have a pile of letters to get through all at one time. Some teachers will post these thank you letters while others will send them home with their students. Though a quick email may seem appropriate for thanking parent volunteers, a handwritten note of thanks will be something that they will appreciate and possibly even treasure for some time to come.
Sample Thank You Letters from a Teacher to a Parent Volunteer
Mrs. Edith Smith
School Name
School Street Address
Town
County
Postal Code

12 May, 2008

Mrs. Victoria Jackson
Street Address
Town
County
Postal Code

Dear Mrs. Jackson,

Our recent class trip to the Botanic Gardens was a smashing success and I could not have done it without you. Not only was it wonderful to have an extra pair of hands (and eyes, and ears!) to help look after the students but your ability to keep them all interested in the Gardens, not to mention focused on completing their work, was greatly appreciated.

We have just completed our unit on plants and flowers and many of the students are still talking about how you helped them to find their favourites at the Botanic Gardens. In art class some of the students even drew pictures of the field trip, with you as an integral part of our group. Please find enclosed a selection of these drawings in thanks for all of your hard work on the day.

It is only with parent volunteers such as yourself that I am able to go beyond the books and classroom walls to show students that the subjects that we study and the topics that we discuss are all around us in the "real world." Thank you for allowing me to do this on our trip to the Botanic Gardens.

Best Wishes,

Edith Smith
You might also like...