Thank You Letter from Student to Private Tutor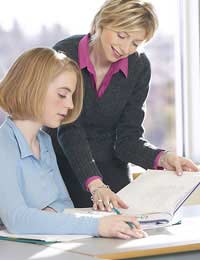 The relationships between students and private tutors are often informal and more relaxed that those between students and teachers. For this reason the tone of thank you letters from students to private tutors can be more relaxed, though an appropriate amount of sincerity should also be included.
Writing Thank You Letters from Students to Private Tutors
Students should handwrite their thank you letters to their private tutors. It does not matter if these letters are on note cards, in commercial cards or simply on a clean piece of paper, but it does matter that students take the time to write their notes themselves. These letters can include appropriate doodles and drawings if students want to personalise their letters or if these visual effects pertain to topics that students and tutors were working on together. Similarly, adding cut-outs or stickers to make collages might also be options for thank you letters to tutors. In their letters students should be sure to say "thank you" explicitly and to touch upon how the tutors have helped them, such as by helping them understand specific subjects, get better grades or successfully sit exams. The format of thank you letters from students to private tutors does not need to be formal and can follow the relaxed tone of the student/tutor relationship. If a student wants to give a private tutor a thank you gift then that is fine, but a thank you letter should also be included. It is nice if thank you letters from students to private tutors are hand delivered at the last tutoring session.
Sample Thank You Letter from a Student to a Private Tutor
Dear Geoff,

When we started working together I was certain that I would never understand geometry. The angles and shapes didn't make any sense to me and I couldn't even look at a proof without breaking out into a cold sweat. The classes moved too quickly for me to follow along with each new topic, and before I knew it my grades were falling and I was certain that I shouldn't be studying this subject.

When Mum and I agreed that I should try working with a private tutor I wasn't very hopeful that things would change. I expected tutoring to be a lot like sitting in class, but you made sure that this wasn't the case. I don't think I'll ever say that geometry is fun, but you were always able to explain it in a way that I could understand. Even when I was sitting exams I could hear your voice in my head helping me through the problems step-by-step.

I just wanted to write this note to thank you for all of the work you did with me this year, and to let you know that I successfully passed geometry. I might not have had the highest grade in the class, but I definitely surprised myself - and maybe my teacher too - with all that I could accomplish. I know that if I had not worked with you I would not be able to say that today.

Thank you again for helping me this year,

Daisy
You might also like...