End of Year Thank You Letter from Parent to Teacher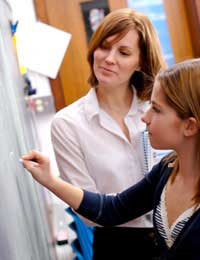 Many parents choose to write thank you letters to teachers at the end of a school year. While teachers might not necessarily expect thank you letters, they will no doubt be appreciated and maybe even cherished for years to come. Everyone enjoys hearing that they have done their jobs well, and teachers are no different. Parents who feel that teachers have truly made a difference to their students' lives should not hesitate to express these thoughts in end of year thank you letters.
Writing End of Year Letters from Parents to Teachers
Parents may be hesitant to write thank you letters to teachers because they are unsure of the formalities. These parents must remember that it is the thought that counts when writing end of year thank you notes to teachers. Select a nice card or piece of note paper, but do try to handwrite a letter rather than typing it. Not only does handwriting add a personal touch, but it allows teachers to see that parents have taken the time to write the letters themselves. Parents should touch on exactly what they are thankful for, and the impact that the teacher has made in their children's lives. Parents can drop the notes off in person, send them in with their students or post them to the teachers at school.
Sample End of Year Thank You Letter from Parents to Teachers
Ms. Susan Smith
Street Address
Town
County
Post Code
5 Dec 2023
Mrs. Josephine Brown
School Address
Town
County
Post Code
Dear Mrs. Brown,
From the moment Gemma entered your classroom she was a child transformed. In the past Gemma was not fond of school, but your teaching has certainly turned that around. Not only has Gemma become excited about subjects that she never enjoyed in the past, but she is now talking endlessly about the kinds of work she can plan for the summer! We have stacks of the books that you have recommended piled all around the house, and even if Gemma only gets through half of these it will be a huge difference from the days in which she only ever read emails.
I know that Gemma can be a bit of a handful in the classroom, but your ability to get her to sit quietly and focus on the task at hand has been nothing short of miraculous. As you know, her grades have improved dramatically this year and she now quotes you all the time. "The sooner you start the sooner you'll finish" is heard daily in our house, and sometimes more often than that. Even better, Gemma truly does follow this advice so we no longer have the procrastination problems that we once did. That alone has made a huge difference to homework time.
We can't thank you enough for the work that you have done with Gemma this year. We were so lucky for Gemma to have been assigned to your class, and the students in your class next year are in for a real treat. I can only hope that Gemma continues on in the direction in which you have pointed her.
Warmest Regards,
Susan Smith
Thank You From a Student?
If you are a student and you wish to
Thank Your Teacher
for the help and guidance they've given to you over the year, why not write them a letter telling them just that?
You might also like...
why is all your letters so messy????????????/
freak
- 10-Dec-12 @ 8:55 PM
Teachers do like to receive these letters, even just a note, but honestly, the best thing is to have the pupil write a note or card themselves - but only if they've enjoyed the class with the teacher. A little something like that can really make a teacher's day. There's no need for gifts of chocolates or smellies, lovely as they are. Something from the heart can mean so much more, and will be proudly displayed at home!
Penny
- 4-Jun-12 @ 10:28 AM