Thank You Letter for Agreeing to Be a Godparent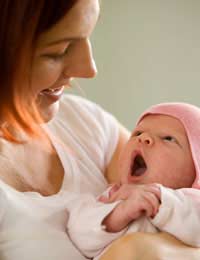 The role of a Godparent differs according to both religious beliefs and familial expectations, but agreeing to be a Godparent always carries some degree of enhanced responsibility to a child. When family members of friends agree to act as Godparents to your child, it is expected that you thank them for undertaking this additional role. A sincere thank you letter is a great way to communicate this message of thanks.
Content of a Thank You Letter to Godparents
When writing to thank someone for becoming a Godfather or Godmother it is important to write about why you asked them to assume this position. Mention the character traits you admire, how they interact with children or how you believe their faith will help them with their new roles. If you would like you might also mention how you would like your child to grow in faith with their Godparents' help. You may decide to send this letter prior to a formal baptism or christening once the Godparents have agreed, but if you wait until after then mentioning details of the event itself is also appropriate. Don't forget a very clear message of thanks, and to communicate that you understand the additional responsibilities the Godfather and Godmother have agreed to take on due to their new relationship with you and your child.
Format of a Thank you Letter to Godparents
A thank you letter to a Godparent should not be formatted as a business letter. The relationship between a child, his or her parents and his or her Godparents is an entirely personal relationship and this should be emphasised with a less formally formatted thank you letter. Including the date of writing and a formal salutation ("Dear") is important, but an informal closing ("Love", "All our love", etc) is entirely appropriate. Handwritten letters are nice, but if you decide to print your letter then make sure you sign you name at the end. Hand delivery and postal delivery are both fine for letters which thank others for agreeing to become Godparents, but electronic delivery might be a little bit too informal for most relationships.
Sample of a Thank You Letter to Godparents
5 Dec 2023
Dear Daniel,
Though I'm sure you know how much we appreciate your agreeing to become Sean's Godfather, we wanted to write to once again express our gratitude. Your faith has always been a source of inspiration for us, and we know that with your guidance our son has a wonderful start to living a full, rich life. It is important to us that Sean experiences the positive effects a spiritual and religious life can have, and we could think of no one better to assist us with such lessons than you.
While many Godparents today seem to take on the role in a symbolic way we know we are lucky that you are interested in being active in Sean's life. We have no doubt that the coming baptism will be only the first of many important events that we all share together. As soon as we have further information on the ceremony and more plans in place for the celebration we plan to host afterwards we will forward them on to you.
Again, we are just delighted that you have agreed to become Sean's Godfather. Thank you for taking on this responsibility and being prepared to give your time and energy to our son and family.
With love,
____________________
Declan and Mary
You might also like...
What a stunning article jam-packed with nice ideas for things to say. Beautiful, thanks for this article and advice.
Akshi
- 2-Aug-20 @ 7:45 PM
Dear Though I'm sure you know how much we appreciate your agreeing to become Sean's Godfather, we wanted to write to once again express our gratitude. Your faith has always been a source of inspiration for us, and we know that with your guidance our son has a wonderful start to living a full, rich life. It is important to us that Sean experiences the positive effects a spiritual and religious life can have, and we could think of no one better to assist us with such lessons than you.While many Godparents today seem to take on the role in a symbolic way we know we are lucky that you are interested in being active in Sean's life. We have no doubt that the coming baptism will be only the first of many important events that we all share together. As soon as we have further information on the ceremony and more plans in place for the celebration we plan to host afterwards we will forward them on to you.Again, we are just delighted that you have agreed to become Sean's Godfather. Thank you for taking on this responsibility and being prepared to give your time and energy to our son and family.With love,
prince
- 18-Mar-12 @ 8:57 PM