Thank You Letter for Organising a Club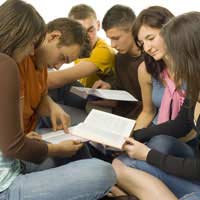 From book clubs to bridge clubs to bowling clubs many people are rediscovering the joys of group activities. Clubs were popular several decades ago, but then they fell out of favour. Now there are clubs springing up in communities around the United Kingdom. But for everyone who joins a club there is someone else who must organise it. Club members should take the time to write thank you letters to those who do all of the planning and organising, particularly since it means that the other person's hard work means that they don't have to!
Content of a Thank You Letter for Organising a Club
Thank you letters written to people who organise social clubs should include references to the clubs and why they mean so much to the members. Details such as club members, meeting times, meeting locations, activities and social events are all appropriate to include in a thank you letter to help personalise it for the recipient. More personal messages, such as how a club helped a member overcome a difficult life event, or how membership in the club led a member to a joyous life event, are also appropriate for inclusion. If a member would like to become more involved with organising a club then it is also acceptable for him or her to extend an invitation to volunteer in a thank you letter, though this invitation should not be extended if the member does not truly mean to follow up on it.
Format of a Thank You Letter for Organising a Club
The format of a thank you letter for organising a club should follow the format of the club itself. Those who take responsibility for more formal clubs with clear positions and regulations may require a more formally formatted thank you letter. Those who look after more informal clubs which take turns hosting or organising meetings may be perfectly fine with informal notes or even electronic communications. However, as long as the thank you letter is sincere the format of the letter is less important.
Sample of a Thank You Letter for Organising a Club
5 Dec 2023
Dear Eleanor,
I know I don't say it often enough, but thank you again for organising the Local Sewing Society. When I retired I did not know how I would fill my time, but the Society's weekly meetings have become events to which I always look forward. The knowledge of the members is astounding, and I know that I would not have finished half as many projects as I have without the support of everyone at the meetings. This year's Christmas Luncheon was a particular treat and it was the perfect start to the festive season. Thank you for thinking of the Society and organising such as lovely lunch for us. If you ever need help with Society tasks or events in the future, please don't hesitate to call me as I would be happy to give back to an organisation which has given me so much.
Thank you again.
Sincerely,
Henrietta
You might also like...