Thank You Letter to Clients for Completing Feedback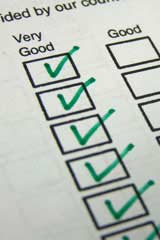 Clients are never required to complete feedback as requested by a company, so when they do they should be thanked for engaging in this activity. Sending out a thank you letter to clients who have completed feedback is good business etiquette.
Content of a Thank You Letter for Completing Feedback
Thank you letters sent to clients for completing feedback for an organisation can be form letters. In fact, since they are all thanking clients for doing the same thing, there is no need to personalise these letters to each client who completes feedback. Many businesses even have a form letter that is sent out via email after a client completes feedback online so that no one in the business spends time on these letters after the initial form letter is completed. These letters should contain an explicit expression of thanks for completing the method of feedback (taking a survey, engaging in an interview, etc.) as well as information on what will be done with the feedback and why the feedback is important for the business and therefore the client. Making this direct relationship - that in completing feedback the client is helping him or herself - is important so that the client will continue to complete feedback when the organisation asks in the future. Also, if there will be a follow-up with the client to discuss or clarify his or her feedback then this should be mentioned in the thank you letter. Any free gifts or discounts that will be given to the client for completing feedback should be mentioned in this letter as well.
Format of a Thank You Letter for Completing Feedback
Thank you letters to clients are business letters and as such should have formal formatting. The name, title and addresses of both the writer and recipient should be included in the letter, and the date and formal salutations and closings should appear as well. These letters should be typed and printed on company letterhead with the writer's signature as the only handwritten aspect. Posting these letters is appropriate. However, if feedback has been solicited electronically, such as with an online survey or email survey, then sending out a thank you letter via email would also be appropriate. This type of thank you letter should avoid presenting the names, titles and addresses of the writer and recipient but should retain all other more formal aspects. If an email thank you letter is sent out, it should be sent immediately after a client completes the feedback. Unless a very special relationship exists, informal e-cards and commercial thank you cards should always be avoided when thanking clients for completing feedback.
Sample Email Thank You Letter for Completing Feedback
27 March, 2008
Dear Francine Sparks,
Thank you for completing Online Retailer's Client Satisfaction Survey. Your answers will help Online Retailer better serve you and all clients in the future.
Online Retailer will be analysing the results of the Client Satisfaction Survey when the survey period ends on 1 June, 2008. If it is believed that more information is needed about your feedback you may be contacted via email for clarification.
In thanks for your participation in Online Retailer's Client Satisfaction Survey, please accept a 10% discount on your next order from Online Retailer. Simply enter the code ORCSS in the promotions section of your next order and 10% will be taken off of your total. A similar discount will be given should you be contacted for, and complete, further clarification of your feedback.
Sincerely,
Online Retailer Customer Satisfaction Team
You might also like...
Agreed that the letter needs to only be short and quite formal. Given that most feedback is online these days it would most likely be an email, and what's covered in the note shown is perfectly adequate; after all, it's a simple business transaction, so there's no need for anything more.
company man
- 5-Oct-12 @ 2:21 PM