Thank You Letter for Becoming a New Client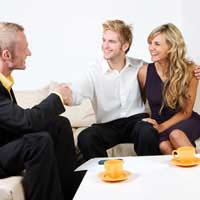 When a new client agrees to work with an organisation it is good business etiquette to send a thank you letter to that client. These letters should be personalised, professional, and explicitly thank the client for choosing to work with that organisation.
Content of a Thank You Letter for Becoming a New Client
New clients must be made to feel confident in their decision to work with a specific company, and a speedy and professional thank you letter from that organisation can go a long way towards putting their minds at ease. Thank you letters should be personalised to each client rather than generic form letters and should include details of how the organisation is looking forward to working with the client. Reminders of past awards or accolades that the organisation has received may also be appropriate in these letters if the intent is to bolster the new client's confidence. Referring to organisations that the client may have worked with in the past is not appropriate. A polite, professional tone should be used throughout as these letters may well be saved by the client in the organisation's file.
Presentation of a Thank You Letter for Becoming a New Client
Thank you letters for becoming a new client are business letters and should be formatted as such. The name, title and contact information of both the writer and recipient should be included, and formal salutations and closings should be employed. These letters should be typed rather than handwritten, though the signature of the company or account spokesperson should be included. These letters should be printed on company letterhead since they are official communication from the company, and posted out within one working week of the new client signing up with the organisation. Sending such a thank you letter through the post is fine.
Sample of a Thank You Letter for Becoming a New Client
Mr. Daniel Smithson
Managing Director
Famous Literary Agency
Street Address
Town
County
Postal Code
5 Dec 2023
Ms. Angela Baker
Bestselling Author
Street Address
Town
County
Postal Code
Dear Ms. Baker,
It is with great pleasure that I welcome you to the family of Famous Literary Agency. I know I speak on behalf of all staff when I tell you that we could not be happier that you have selected us to represent you in all matters related to your literary career. Thank you for giving us this honour.
Famous Literary Agency now represents over 200 authors worldwide and 12 bestselling authors throughout the United Kingdom. Our 111 years of continuous operation make us the oldest literary agency in the country, and our 64 Literary Agency Awards make us the most respected. And the future only looks brighter with you as one of our newest stars.
Thank you again for choosing to work with Famous Literary Agency. We look forward to meeting with you next month to discuss your upcoming novel and your plans for your future career. If you require anything before then please do not hesitate to contact me.
Warmest Regards,
Daniel Smithson
Managing Director
You might also like...