Thank You Letter to Clients for Positive Comments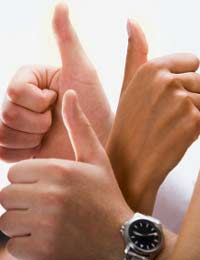 Businesses which are recommended or otherwise receive positive comments from clients should always acknowledge this feedback. Sending a thank you letter to clients who make positive comments is good business etiquette.
Content of a Thank You Letter for Positive Comments
Thank you letters for positive comments can follow a set template, though there should be some attempt to personalise the letter to the client and his or her comments. For example, simply entering the subject of his or her comments is often enough to make a form letter pertain to the client directly. As these thank you letters would be relatively short if they simply contained an expression of thanks, many businesses also take the opportunity to include details of how the clients' comments will be used, future plans that the business may have and details of any gift or discount being sent to the client for giving the business feedback. However, all of this information should be secondary in the letter and come after the explicit expression of thanks.
Format of a Thank You Letter for Positive Comments
Thank you letters to clients, for any reason, are business letters and as such are formatted more formally. The name, title and addresses of both the writer and recipient should be included in the letter, as should the date and more formal salutations and closings. The signature of the writer should be the only handwritten aspect of the letter as the other contents should be typed and printed on company letterhead. Posting these letters via regular mail is appropriate. In some cases, if the writer and recipient are very close, then these letters may be sent via more informal email but e-cards and commercial cards of thanks should be avoided for thank you letters to clients for positive comments.
Sample of a Thank You Letter for Positive Comments
Harry Jones
Owner
Harry's Gym
Address Details
23 September, 2008
Letitia Saunders
Sales Manager
General Gym Equipment
Address Details
Dear Ms. Saunders,
It has come to my attention that you have recently recommended Harry's Gym as an example of the best small gym in the local area. I would like to take this opportunity to thank you for your kind remarks and to assure you that our great relationship with General Gym Equipment is one of the reasons we have been lucky enough to offer our clients the highest quality services of any other gym of comparable size in this community.
In thanks of your kind remarks, I would like to offer you a free one week membership to Harry's Gym so that you can enjoy the fitness haven that we have created. I believe you will be most pleased to see the top of the line General Gym Equipment that we offer, as well as line of free weights that we have recently purchased from General Gym. If, while you are here, you see any other opportunities for General Gym Equipment and Harry's Gym to collaborate please do not hesitate to contact me. It is always a pleasure to work with you and I hope to contain our business relationship for some time.
Sincerely,
Harry Jones
Owner, Harry's Gym
You might also like...
I mean am lost in words, this is simply wanderful ,Once again thankyou for being there. Best regards. Akaniyene Assam.
prince castral
- 18-Jan-13 @ 11:52 AM
Offering a gift for positive comments is a lovely idea, but it can have its drawbacks. If the gift is a good one, then other companies might start making good comments just to receive the same. It's more effective as a surprise. Thanking a customer is always good, as is asking them what they feel you can do even better. Make the letter personal, which allows the customer to feel special and singled out. A gift might be a lovely thank you, but it shouldn't be a habit.
Toni
- 3-Jul-12 @ 2:27 PM