Thank You Letter for Doing Business With Us This Year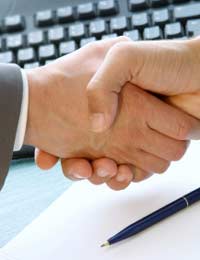 At the end of each year many organisations like to like to thank their clients for doing business with them. Using a thank you letter to also mention plans for the future is a great way to keep clients interested in doing more business in the year ahead.
Content of a Thank You Letter for Doing Business with Us This Year
A letter intended to thank clients for doing business with an organisation should of course include this explicit message of thanks. For larger organisations it makes sense that this letter would be a generic form letter that could be used interchangeably among all of its clients, but if there is any way that these letters can be personalised it is a good idea to do this. Clients will remember those who took the time to thank them personally, and these small details are often enough to sway a client into doing business again. Personalising such letters can be as easy as mentioning a particular project that was worked on this year, the outcome of a particular event or simply the names of those who worked directly with the organisation. Using these letters to also include an update on the organisation or to announce plans for the future is also a smart idea. With some indication of future plans, clients can close the year confident that an organisation is ready for what lies ahead.
Presentation of a Thank You Letter for Doing Business with Us This Year
Unless a business is highly informal and wants to send out holiday cards with a message of thanks or actual thank you cards then these thank you letters should be formatted as business letters. The name, title and address of both the writer and recipient should be included and it would be appropriate to print these letters on organisational letterhead as they are communications from the organisation as a whole. Using more formal salutations and closing would also be appropriate, as would the signature of the organisation's spokesperson for such matters. Some organisations even prefer to send letters signed by the owner or Managing Director to their clients at the end of the year.
Sample of a Thank You Letter for Doing Business with Us This Year
Mr. James MontagueManaging DirectorMontague CommunicationsStreet AddressTownCountyPostal Code
5 Dec 2023
Ms. Sheila SheehyOwner Sheehy AutomobilesStreet AddressTownCountyPostal Code
Dear Ms. Sheehy,
As yet another year draws to a close I would like to once again thank you for choosing Montague Communications as your ad agency this year.
Montague Communications has expanded greatly since our entrance to the market twelve years ago, and this past year alone we have taken on 27 new accounts. But this does not mean that we have compromised on quality work for our clients. Overall we have won 16 Ad Agency Awards, three in the last year alone. This is four times more Ad Agency Awards than any of our closest competitors.
Working with Sheehy Automobiles is always a treat for us, and we have an exciting new campaign designed for 2009. After our discussions of targeting younger female drivers, we have devised print, television and Internet ads that we hope will capture this demographic's interest. Unveiling these ads at our 7 January, 2009 meeting will be a pleasure for us.
Thank you again for choosing to work with Montague Communications, and we look forward to getting back to business on 7 January.
Kindest Regards,
James MontagueManaging Director
You might also like...
While it's useful to emphasise any wards the company might have won during the year as it indicates why the client should continue working with the company, remember that the true emphasis has to be on the thanks and the act of gratitude. This is vital to continue the good relationship and remind the client that they're appreciated.
Carol
- 3-Oct-12 @ 11:23 AM