Thank You Letter for Hosting a Family Celebration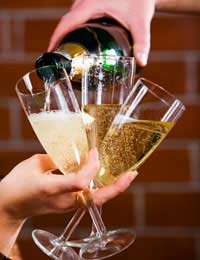 Family celebrations often require a good deal of planning as well as all of the effort that goes into hosting an event. From holiday dinners to birthday parties to special family occasions, those who are involved in hosting a family celebration deserve to receive at least a thank you letter for their hard work.
Content of a Thank You Letter for Hosting a Family Celebration
A thank you letter for hosting a family celebration should reflect the tone of family relationships and especially the nature of the family member who hosted the celebration. Family members who tend to be warm and informal should therefore receive thank you letters that are warm and informal, while families that are not as close may require more formal thank you letters. Regardless of the tone, these letters should include a few pertinent details of the family celebration so that they truly reflect whatever it is for which the writer is sending thanks. Even details such as delicious food, festive decorations and a great mix of guests can be mentioned. If there are no details too small for a host to worry about then there are no details to small for a guest to admire and mention in a thank you letter.
Format of a Thank You Letter for Hosting a Family Celebration
The format of a thank you letter for hosting a family celebration should follow the tone of the letter. Formal letters can be typed and use more traditional salutations and closings, though templates or form letters should be avoided in favour of more personalised content. Informal letters can be handwritten on note cards or inside a commercial thank you card. Either type of letter should include the date and the signature of the writer. In many cases, a thank you letter can be sent in an email or via an ecard. Letters sent through the post should arrive no later than a week after the family celebration while electronic communications should be sent within a few days of the writer arriving home.
Sample of a Thank You Letter for Hosting a Family Celebration
5 Dec 2023
Dear Aunt Agatha,
We just wanted to write again to thank you for hosting such a beautiful family Christmas this year. It couldn't have been easy to plan for a Christmas Eve cocktail party as well as a traditional Christmas dinner but you certainly pulled them both off with flair. Your Christmas pudding is still the talk of the family and I will have to make sure that I get that recipe from you in the near future!
Though it's a little early to begin planning for next year, I just want you to know that we hope that we can all spend Christmas together again. We understand that you must have had to put quite a lot of work into this year's celebrations so if you need a break next year, please know that we would be happy to host instead or to do whatever you need us to do to assist you.
Thank you again for a wonderful family celebration.
Love Always,
Kim, Kieran and the boys
You might also like...
I've found that making the letter very personal and focusing on the great moments of the celebration are best, since those remind the host about what made it such a magical time. However, only offer to host a gathering yourself if you have the room and the energy for it – don't bite off more than you can chew.
Linda
- 3-Oct-12 @ 11:38 AM