Thank You Letter for Help During an Emergency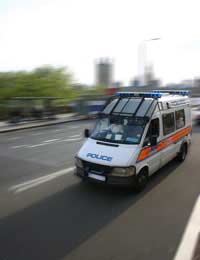 Receiving help during an emergency can literally be life-saving. Whether it is providing shelter during a storm, helping with a car crash, assisting during or after a robbery or even simply picking up the kids when parents are unavoidably detained, those who help out during emergencies give up their own time and sometimes even their own safety to make sure that others are alright. The very least someone who received help during an emergency can do is to send a sincere thank you letter to the helper soon after.
Content of a Thank You Letter for Help During an Emergency
A thank you letter that is sent after someone helps out during an emergency should first and foremost contain an expression of thanks. These letters should reference both the emergency and the steps that the recipient took to provide assistance. They should also contain details of why the assistance was important and how it positively affected the situation or the person who received help. If the person who received help was a small child, parents should write their own thank you letters but also try to write down a message of thanks as dictated by the child. Retaining the child's voice in these messages is important, and some parents may want to allow their children to add their own signatures or doodles as well.
Format of a Thank You Letter for Help During an Emergency
Thank you letters for help during an emergency should be relatively intimate messages, so formal, typed letters tend to be inappropriate for this type of communication. Instead, these letters should be handwritten on nice paper, notecards or commercial thank you cards. The date should be included in these letters, and more informal salutations and closings may be used. Sending these thank you letters via email or e-card may be appropriate, however if the help given during an emergency was truly unique or endangered the safety of the person offering help then electronic communications may seem slightly frivolous. If electronic communications are sent, they should be sent within 24 hours of the event. If letters are posted or hand delivered they should be timed so that they are delivered no later than a few days after the event.
Sample of a Thank You Letter for Help During an Emergency
5 Dec 2023
Dear Ray,
I can not tell you how much I appreciate the assistance you offered me yesterday. I have never been snowed into my own house before, nor have I ever had the electricity and gas shut off due to bad weather. When you arrived to help dig out the front door I was despairing that I'd ever get something to eat or feel warm again! Allowing me to return to your house was incredibly generous and while the circumstances weren't the best I really did enjoy getting to know you better. I can only hope that if you ever need help I will be able to assist you in such a competent, unselfish manner. In the meantime, please find enclosed a gift certificate to Carol's Cafe. After all of the cooking that you did for me I thought it was only fair that you had a night off from the kitchen.
Thank you again.
Best Wishes,
Regina
You might also like...