Thank You Letter for the Dinner or Similar Party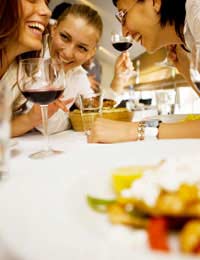 It has become quite common for friends and family to eat out, grab a takeaway or otherwise share a meal together. So common, in fact, that if someone tried to send a thank you letter every time (s)he ate with someone else then (s)he might end up sending out a new letter everyday! But just because sharing meals has become a frequent occurrence for many people does not me that it is alright to take slightly grander events for granted. When someone hosts a more formal dinner party they should be sent a thank you letter in acknowledgement for all of their hard work.
Content of a Thank You Letter for a Dinner Party
A thank you letter sent following a dinner party should always include an explicit message of thanks for the invitation to the party, the party itself and/or all of the effort that the host put into the event. Such letters should also include as many detailed compliments as possible. Mentioning the ambience, decorations, food and drink, other guests and conversation are all potential topics for inclusion in a thank you letter for a dinner party. If the host has a history of successful dinner parties then this might be mentioned as well. If anything came of the dinner party, such as a new friendship, romantic relationship or business association, then this news could also be included at the discretion of the letter writer.
Format of a Thank You Letter for a Dinner Party
The format of a thank you letter for a dinner party should take it's lead from the dinner party itself. Informal parties can be acknowledged with more informal communication. Email or e-cards might even be appropriate. Formal parties, while not requiring a formal business letter format, will likely inspire a more formal tone to the letter. This may mean using formal salutations and closings than the letter writer would employ in other communication. If possible, thank you letter should be handwritten on paper, notecard or even a commercial thank you card. Postal or hand delivery are appropriate for thank you letters for dinner parties and should be sent no more than a few days following the event.
Sample of an Informal Thank You Letter for a Dinner Party
5 Dec 2023
Dear Patrick,
Thanks again for hosting such a fun St. Patrick's Day dinner. I wasn't expecting to enjoy a meal that I was certain would be based around potatoes and cabbage, but your Irish lamb certainly surpassed my expectations! It was a great night with good friends, and the supply of old Irish whiskey didn't hurt either. Francis and I ended up chatting for a quite a while and have a date arranged for next week. I'll be sure to let you know how it goes!
Thanks again,
Niamh
Sample of a Formal Thank You Letter for a Dinner Party
5 Dec 2023
Dear Patrick,
Francis and I thoroughly enjoyed this year St. Patrick's Day dinner hosted by the Local Irish Society. The salmon in particular was a family favourite, though the soothing music from the Irish harp was a close second. Undertaking this annual event is a hallmark of the Local Irish Society, but this doesn't mean it's easy. Thank you for keeping the tradition alive, and for making it more enjoyable each year.
Sincerely.
Niamh O'Connor
You might also like...
Formal Thank You Letter for a Dinner Party 26 Jan 2013 Dear Patrick, Francis and I thoroughly enjoyed this year St. Patrick's Day dinner hosted by the Local Irish Society. The salmon in particular was a family favourite, though the soothing music from the Irish harp was a close second. Undertaking this annual event is a hallmark of the Local Irish Society, but this doesn't mean it's easy. Thank you for keeping the tradition alive, and for making it more enjoyable each year. Sincerely. Niamh O'Connor
gul
- 26-Jan-13 @ 7:22 PM
26 Jan 2013 Dear Patrick, Thanks again for hosting such a fun St. Patrick's Day dinner. I wasn't expecting to enjoy a meal that I was certain would be based around potatoes and cabbage, but your Irish lamb certainly surpassed my expectations! It was a great night with good friends, and the supply of old Irish whiskey didn't hurt either. Francis and I ended up chatting for a quite a while and have a date arranged for next week. I'll be sure to let you know how it goes! Thanks again, Niamh
gul
- 26-Jan-13 @ 7:20 PM