Thank You Letter for Looking After Pets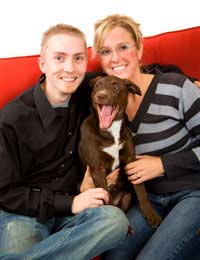 A pet is a member of the family, so entrusting a pet to the care of others can be a nerve-wracking experience for his or her owners. When someone takes on the responsibility of caring for a pet they should be thanked with a heartfelt thank you letter.
Content of a Thank You Letter for Looking After Pets
A thank you letter sent to those who have looked after a pet should contain an explicit message of thanks as well as details of why they were asked to take on this responsibility. These details should not be along the lines of "because you were home" or "because you are our next door neighbours" but rather they should be complimentary about why the family thought that they would be the best choice possible for looking after animals. Mentioning a fondness for pets, they ways in which (s)he cares for his or her own pets, how wonderfully (s)he has always played with the family's pet or his or her generally responsible attitudes towards animals are all positive comments that could be included. If the writer is happy to return the favour and look after the recipient's pet(s) in the future then this information could be included as well. However, this is not an offer that should be made casually or if the writer does not truly wish to look after someone else's pets.
Presentation of a Thank You Letter for Looking After Pets
Most people share a close relationship with those who they entrust with the care of their pets. This means that a formal, typed letter would usually be inappropriate given these relationships. Instead, thank you letters for looking after pets should be handwritten on nice paper, notecards or commercial thank you cards. They should include the date and salutations and closings that are appropriate for the type of relationship that the writer and recipient enjoy. If it is acceptable to both the writer and recipient then these thank you letters could even be sent via email or e-card. Otherwise these letters can be posted or hand delivered to the recipient, particularly if the recipient lives close to the writer or if the letter is being delivered with a small thank you gift.
Sample of a Thank You Letter for Looking After Pets
5 Dec 2023
Dear Carol,
We just wanted to thank you again for looking after Bitsy and Bootsy while we were away. Not everyone knows how to care for pet boa constrictors, but we knew that your specialised knowledge of snakes meant that they would be cared for terrifically while we could not be with them. By agreeing to look after Bitsy and Bootsy you allowed us to go on our first foreign holidays in over a decade, and as a small token of our gratitude please find enclosed a gift certificate to Super Snakes, an online retailer offering everything that a snake lover could ever want. And if you ever need someone to look after your pets, please don't hesitate to call us. We would be delighted to return the favour.
Thank you again,
Martin and Samantha
You might also like...