Thank You Letter for Job Interview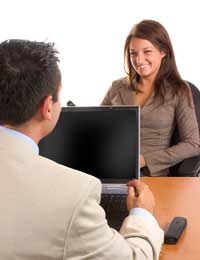 Writing a thank you letter after a job interview serves multiple purposes. Not only does it allow candidates to show good manners and get their names right back on the interviewers' desk, but it also gives them opportunities to show off their writing skills and to add any last minute information that they forgot to mention in their interviews. Thank you letters should not serve as an addendum to an interview, but rather for a chance for candidates to make contact one last time before a selection is made for a given job.
Content of a Thank You Letter for a Job Interview
Thank you letters written after a job interview should first and foremost thank the interviewer for their time. This thank you should be explicit, and it should include some reference that the candidate enjoyed their time together and whatever it was that they discussed. These letters may also include information that the candidate has thought about since the interview but that goes along with the conversation that was shared in the interview. Also, a thank you letter is a great place for the candidate to repeat his or her interest in a given position or a career with a specific organisation and to offer details about how (s)he will follow up about the position in the days or weeks to come. However, this follow up should only reference what the interviewer has already said about the selection timeline and should in no way try to impose arbitrary deadlines on the interviewer.
Format of a Thank You Letter for a Job Interview
Thank you letters for job interviews are almost always typed, and in today's business environment it is perfectly acceptable for these letters to be sent via email. In fact, email can be a great advantage as it allows these letters to be sent within 24 hours of the interview. Thank you letters for job interviews should be formatted as business letters, though if they are sent via email then they do not always need to include the sender's address and contact information which is usually on file anyway. However, thank you letters sent from emails should be sent from email accounts with appropriate addresses, with the candidate's full name as the contact and without long or inappropriate signatures.
Sample (Email) Thank You Letter for a Job Interview
Ms. Virginia Jones
Position/Title
Organisation Name
Organisation Street Address
Town
County
Postcode
Dear Ms. Jones,
Thank you again for taking the time to discuss the position of Editorial Assistant with me this morning. I greatly enjoyed hearing more about the responsibilities and opportunities that come along with this position, and now more than ever I feel that my experience with other publications and my formal education in journalism would be well suited to fulfilling your needs for this job.
I appreciate the time you took from your schedule to answer all of my questions and to show me around the editorial offices. I would like to reiterate that I understand that your new Editorial Assistant must be able to work alone and to deadline, and to add that I have always been able to work well on my own and have never missed a deadline in my career. I'm sure that the references I listed would be happy to confirm this for you.
Thank you again for allowing me the opportunity to interview with you today. As you suggested, I will follow up with you by phone by the end of next week if I do not hear from you before then. I look forward to speaking with you soon.
Sincerely,
Gerard Malone
You might also like...